Map Unavailable
Date/Time
Date(s) - 05/18/2019
2:00 pm - 6:00 pm
Location
JT's Porch Saloon & Eatery
Categories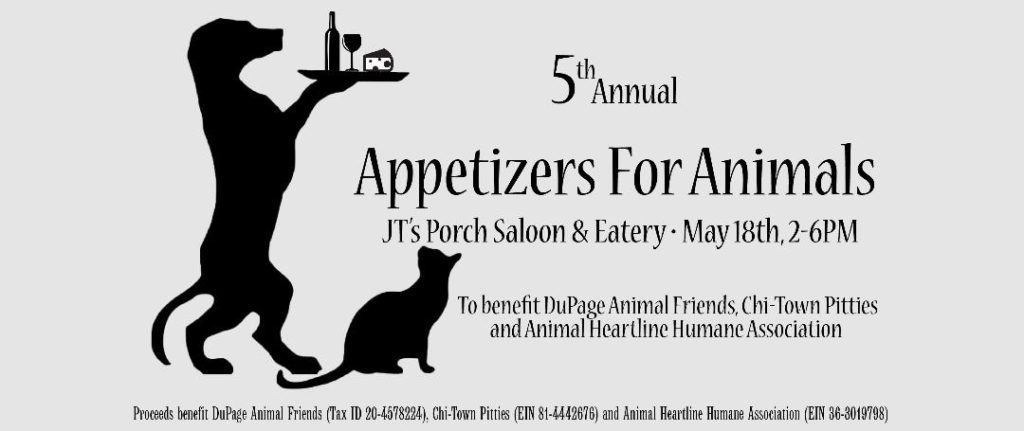 We will have both a Silent and Live Auction (we have a plethora of great items every year, including Cub's and Sox tickets!). Silent Auction tickets are $5/apiece or $20/5-tickets and may be purchased the day of the event. Your generous auction donations will be gladly accepted by Torrie Fernald and Anne Aalbue through May 10th. We will also be accepting animal food donations, treats, blankets, collars, leashes, toys, etc on the day of – these items will be donated directly to the charities. $10 suggested donation at the door.
JT's will be having adult and family-friendly food and drink specials with proceeds donated towards DAF, CTP, and AHHA; plus a wide array of appetizers and desserts for you to enjoy while you peruse and bid the auctions. 🙂 All this while you ROCK out with the fabulous Amy Kelly & Band; AND see friends, both old and new!
JT's Porch Saloon & Eatery is located on the south side of Roosevelt Road in Lombard, is HANDICAPPED ACCESSIBLE, with parking in the lot, parking next door (to the west), and additional street parking on Lloyd.
If you would like to volunteer to provide Appetizers OR Desserts, post in the comments and tag one of us. If you just want to show up to eat and drink, please click the "Going" button so we may plan accordingly. 🙂
Immense thanks to Marie Furrh for designing our logo; and Bob Truex and JT's Porch Saloon & Eatery for graciously allowing us to utilize their space!
Apps have been brought to you again courtesy of Anne Aalbue, Mary Elizabeth Lane, Margaret Micheli Venckus, and Torrie Fernald
https://www.dupageanimalfriends.org/ — Tax ID: 20-4578224
https://chitownpitties.org/ — Tax ID: 81-4442676
http://www.animalheartline.org/ — Tax ID: 36-3019798