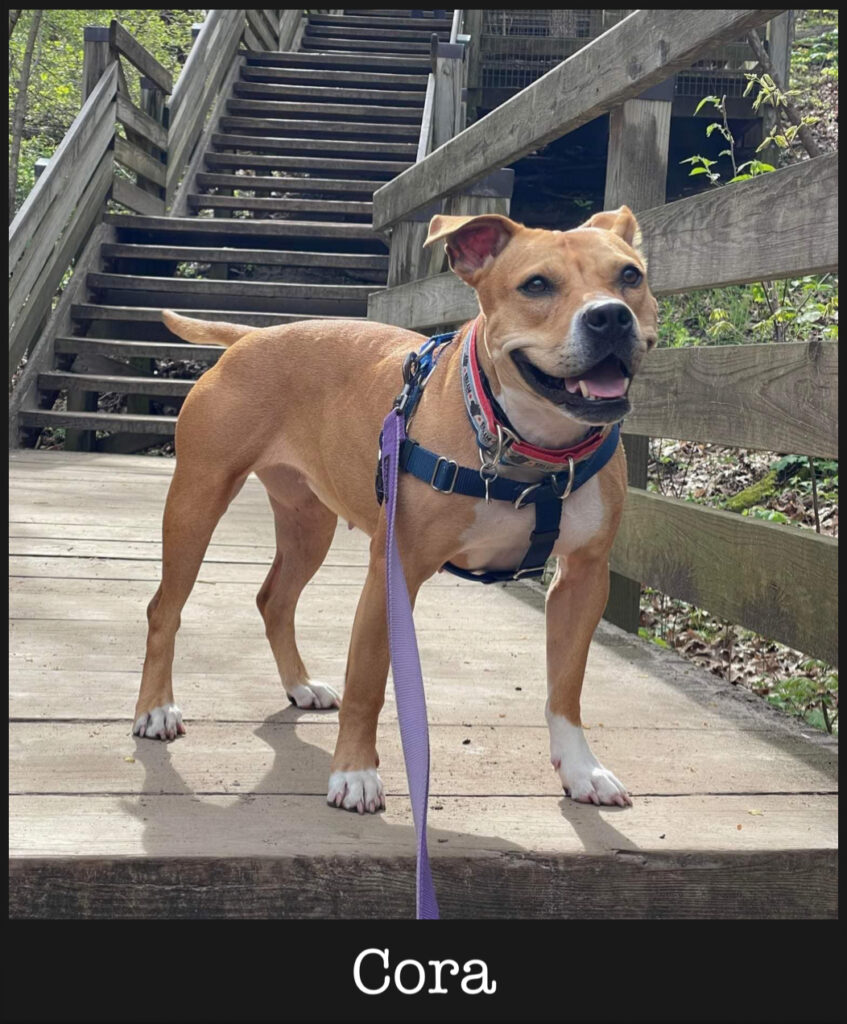 * Approximate Age 5 Years-Old * Needs To Be Only Pet * Not Cat-Friendly * Up To Date On Vaccines * Spayed * Older Child- Friendly*  House-trained * 
Meet Cora, the charming and slightly quirky adoptable pup with a personality that's as unique as her nickname, "Cora Bagora." This delightful six-year-old furball is a true canine companion. Her love for belly rubs and cuddling next to her humans and dog brother is unmatched, making her the ultimate couch potato and lap warmer. When it comes to treats, Cora has a discerning palate—she's all about that beef liver, but watch out for cheese as it doesn't sit well with her stomach. As for toys, she's a fan of Nylabones and soft toys she can lovingly destroy during playtime. Cora's got a playful side too, especially when it's time for the zoomies, and she'll make you smile as she zips from inside to outside.
However, Cora does come with a few quirks. She's not a fan of the crate when left alone, but she's making progress with medication and support. She's also known to be a bit clumsy, occasionally falling off the couch or running into things, but her happy demeanor makes it all the more endearing. Cora's a quick learner who loves to please, making her an ideal companion for someone who enjoys training and bonding with their furry friend. With a little patience and understanding, Cora has the potential for tremendous growth. So, if you're looking for a loving and entertaining partner who will make you laugh with her antics, Cora might just be your perfect match!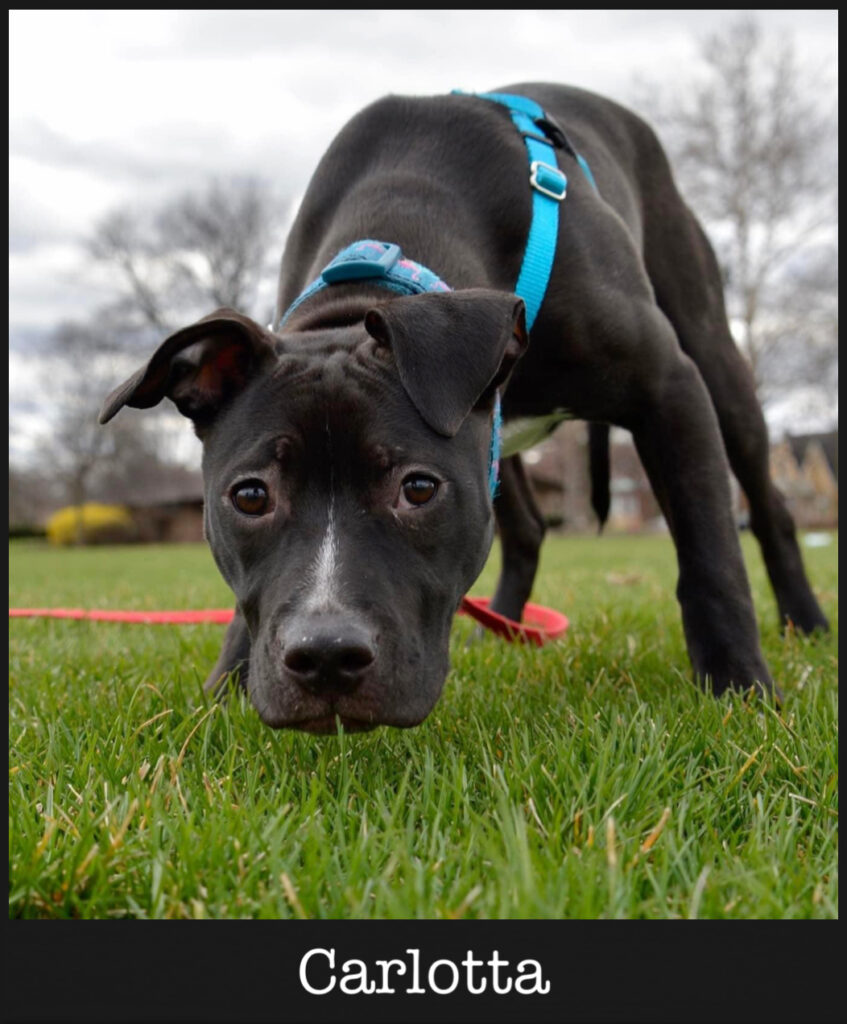 * Approximate Age 2 Years-Old * Dog Friendly * Not Cat-Friendly * Up To Date On Vaccines * Spayed * Child- Friendly*  House-trained * 
Introducing Carlotta, the charismatic canine ready to steal your heart! At just two years old, she's a bundle of energy and joy. When it comes to other dogs, Carlotta is like a socialite at a party—curious but cautious. Her playful demeanor is infectious, and she's always up for making new furry friends. The jury's still out on her opinion of cats, but with a little time and introduction, who knows what friendships could blossom? As for children, Carlotta is a natural charmer. She's got a knack for staying calm and collected, making her an excellent choice for a family pet. Worried about her jumping? Don't be, because with a little guidance, she's as well-behaved as they come.
Now, let's talk about Carlotta's foster parent's favorites, which provide a glimpse into her delightful personality. When it comes to treats, she can't resist those delicious salmon treats from Trader Joe's. As for her meals, she's not a picky eater and will happily devour anything you put in her bowl. Her toy collection includes the Toppl and teething toys, keeping her entertained for hours. Her pass time? Playing in the yard and leisurely walks, which perfectly match her boundless energy. And the star of her activities? The Jollyball, which sends her into a frenzy of excitement. While she might not fancy bananas or crates, Carlotta's endearing quirks, like her wigglebutt dance and adorable pawing for attention, make her a one-of-a-kind companion. With a bit of training and patience, Carlotta is destined to be the furry friend you've always dreamed of welcoming into your family.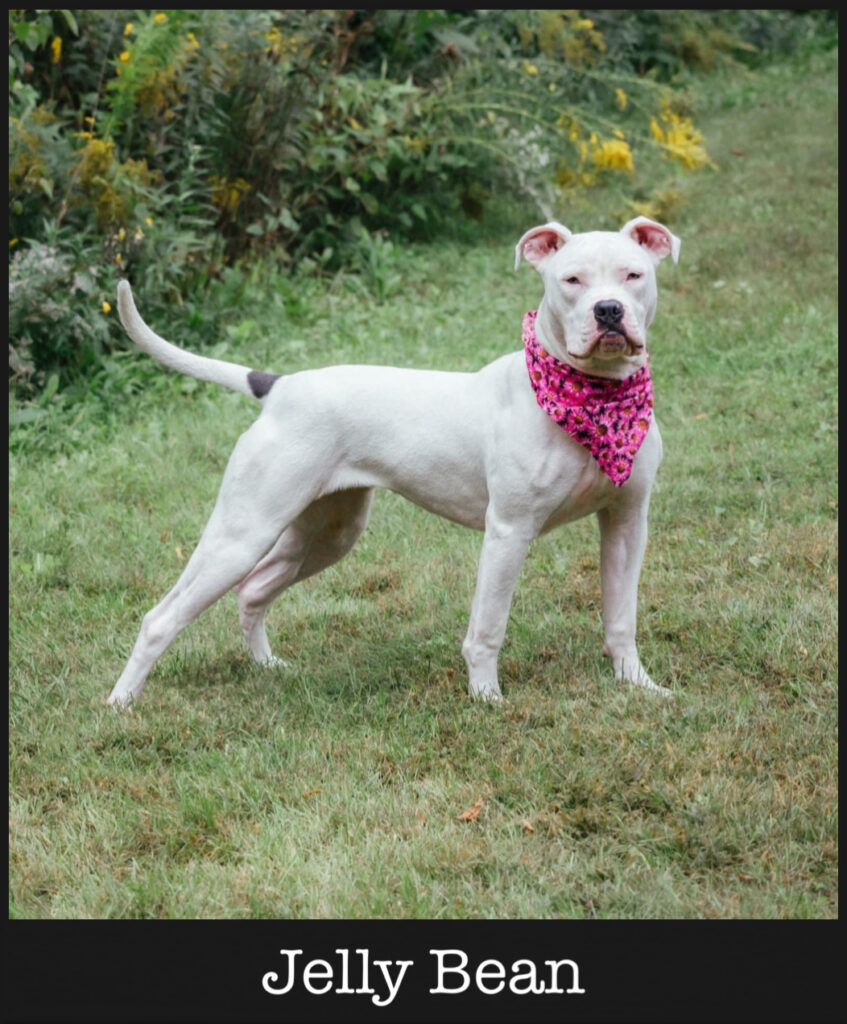 * Approximate Age 2 Year Old *  Dog-Friendly * Up To Date On Vaccines  * Child- Friendly*  House-trained * 
Meet Jelly Bean, the two-year-old dynamo of doggy delight! Jelly Bean is a high-energy, high-fun package of canine enthusiasm looking for her forever playmate. She's a real dog's dog, always up for a game of tug-of-war with her favorite ropes or a spirited chase with her fellow four-legged pals. Jelly Bean might steal a ball or two just for the thrill of the chase, but hey, what's life without a little mischief, right? When she's not in turbo mode, she's quite the cuddle bug, content to lounge on the couch or chew on a tasty bone. And don't forget her unique talent: Jelly Bean loves to wiggle her way into your heart with her signature "wigglebutt" move. Just try to resist those wiggles; we dare you! While she may not be a fan of wearing sweaters, she's a fan of everything else, from treats (cheese is her top pick) to ear scratches (her backside is her sweet spot).
Now, let's talk about Jelly Bean's one quirky habit: her passionate dislike for leashes. She turns into a fierce leash-biting whirlwind, but don't be discouraged; her foster parent is working on it. If you've got a fenced yard, you'll be her hero, as she thrives when she can run free without the leash hassle. Jelly Bean is a sweet celebrity wannabe, charming everyone with her extreme wiggles and love for all humans. So, if you're ready for a wild child who'll keep you entertained and loved, Jelly Bean is your ticket to endless fun and furry affection. Get ready for a life filled with laughter and canine cuddles with this one-of-a-kind pup!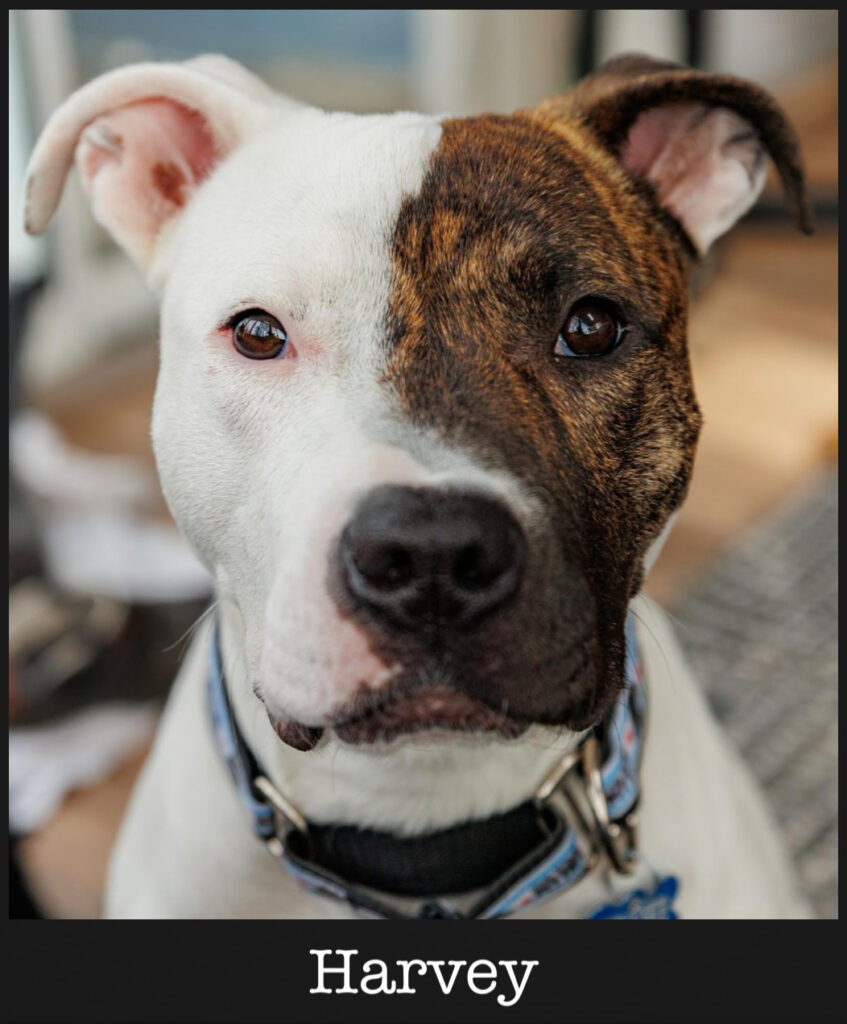 * Approximate Age 1 Year Old *  Dog-Friendly * Cat-Friendly *  Up To Date On Vaccines * Neutered *
Introducing Harvey, the pup with a personality as vibrant and varied as a box of doggy treats! This 1 ½ - 2-year-old dynamo is an exuberant and adaptable companion. Harvey's initial excitement around other dogs might make you think he's auditioning for a canine circus, but don't be fooled – he quickly calms down and becomes the life of the doggy party. His play style is top-notch, and once the initial enthusiasm settles, he interacts with other dogs like a true pro. He's even shown a friendly curiosity towards cats, though he might need a gentle reminder to dial down the excitement. With children, Harvey's youthful exuberance might send them sprawling, making older kids the recommended playmates.
When it comes to his favorites, Harvey's got quite the list! From bully sticks and bones to creamy delights like cream cheese for his meds, this pup's culinary tastes know no bounds. He's all about the Fromm Beef diet with occasional Honest Kitchen beef supplements. For playtime, Harvey's Goughnuts super chewer double ring is the ultimate tug-of-war weapon, and he's all about the Playology squeaky stick for hours of fun. But it's not all action and treats for Harvey; he enjoys hanging out on his sofa and indulging in some good old-fashioned belly rubs. Harvey's love for water activities, from baby pools to showers and sprinklers, adds a splash of excitement to his life.
While Harvey may not snore, his wiggly butt is a clear indicator of his zest for life. He'll eagerly paw at you for attention when the mood strikes and can unleash the zoomies at a moment's notice. Although he rarely leans in for petting, he'll actively seek comfort during thunderstorms or fireworks. His indifference to wearing sweaters or clothes adds a touch of laid-back charm to his style. Nicknamed Harvard, Harv, and even Harveston, this pup's quirky habit involves barking for attention when he misses you, followed by an adorable "aroo" and an irresistible wiggle when you're on your way. Harvey's got a soft spot for belly rubs and ear scratches, and he knows his basics – sit, down, and giving paw. But it's his "touch," "kiss," and "relax" commands that truly showcase his brilliance. While Harvey might pout when crated, he's a good sport and does fine when needed, with occasional protests and a talent for morning wake-up calls. Harvey's love for bully sticks and bones knows no bounds, and he's a master at puzzle balls and shredables for mealtime fun. His short walks are a breeze, although he'll pull hard if bunnies are involved, and he's a pro at redirecting his attention from neighborhood barking dogs. When thunderstorms or fireworks strike, Harvey seeks refuge with his humans and leans in for some reassuring snuggles. With his adaptable and lively personality, Harvey is ready to steal your heart and become the joyful companion you've been looking for!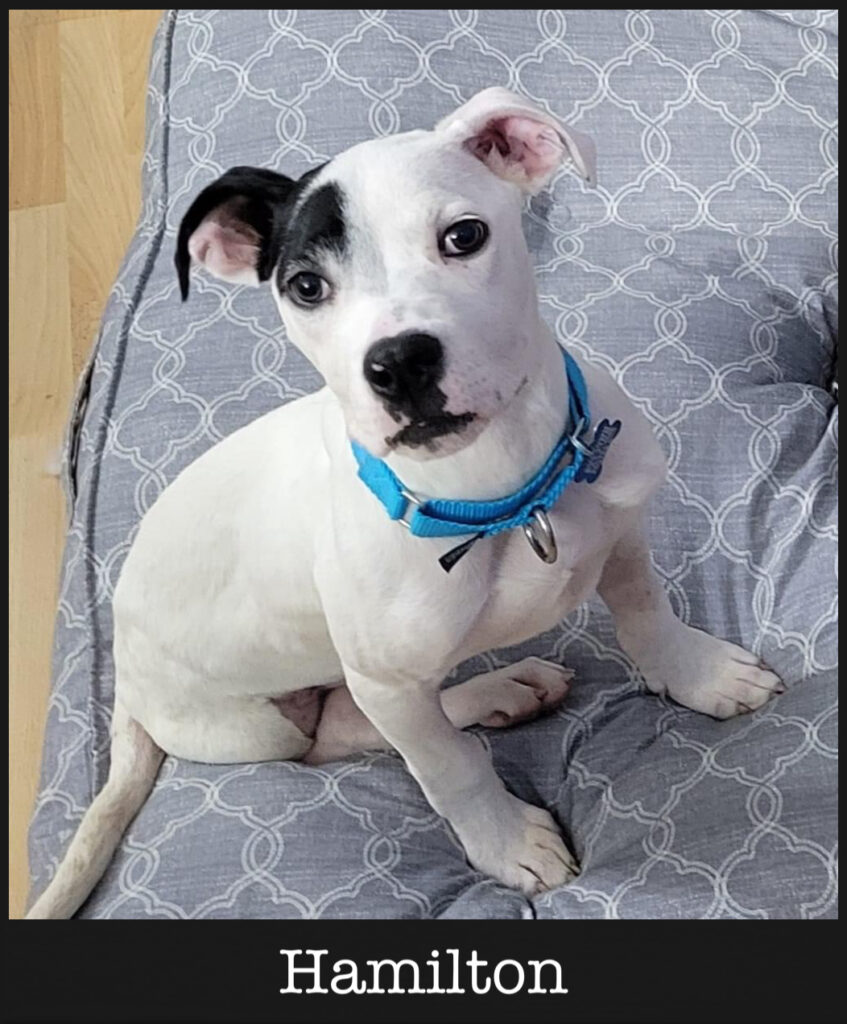 * Approximate Age 1 Year Old *  Dog-Friendly *  Cat Friendly * Child Friendly* Up To Date On Vaccines * Neutered *
Meet Hamilton, the lively and lovable pup who's as versatile as they come! At about 1 year old, Hamilton is the epitome of youthful exuberance. He's got an infectious enthusiasm for life, and his foster family can't help but be entertained by his antics. When it comes to treats, this guy is a certified trash compactor – anything will do! Food? Yep, you guessed it, he's not picky at all. But it's in the toy department that Hamilton really shines, with Benebones and stuffed toys being his absolute favorites. His downtime consists of epic snoring sessions and cuddling marathons, where he'll lean in for pets until he collapses in contentment.
Hamilton's activity list reads like a whirlwind adventure novel. Chewing up toys, keeping the adult dog on their toes, and engaging in spirited games of tug-of-war are just the beginning. But that's not all – this water-loving pup can't resist the allure of baby pools, showers, and sprinklers, making him a true aqua enthusiast. While he might find his crate comfy when his humans are home, there's really no activity that Hamilton dislikes. This bundle of energy doesn't just snore; he's got a resounding snore that could rival any seasoned grandpa's. And while he may not snort, his wiggly butt is a testament to his unbridled excitement. He's always ready to paw at you for attention and unleash his zoomies with abandon. Whether he's sporting the latest doggy fashion or going au naturel, Hamilton's indifference to clothing is endearing, and his ever-growing list of nicknames, like Hami and McNubbins, adds to his charm. But the pièce de résistance? When he tries to scratch himself with his missing leg, and you have to assist him with the itches – a heart-melting moment that showcases his resilience and unrelenting spirit. With the ability to sit and give paw in his repertoire, Hamilton may not have mastered tricks, but he's a master at stealing hearts. So, if you're looking for a versatile and entertaining companion who's up for anything and everything, Hamilton is ready to join your adventures with his snuggles, wiggles, and uncontainable zest for life!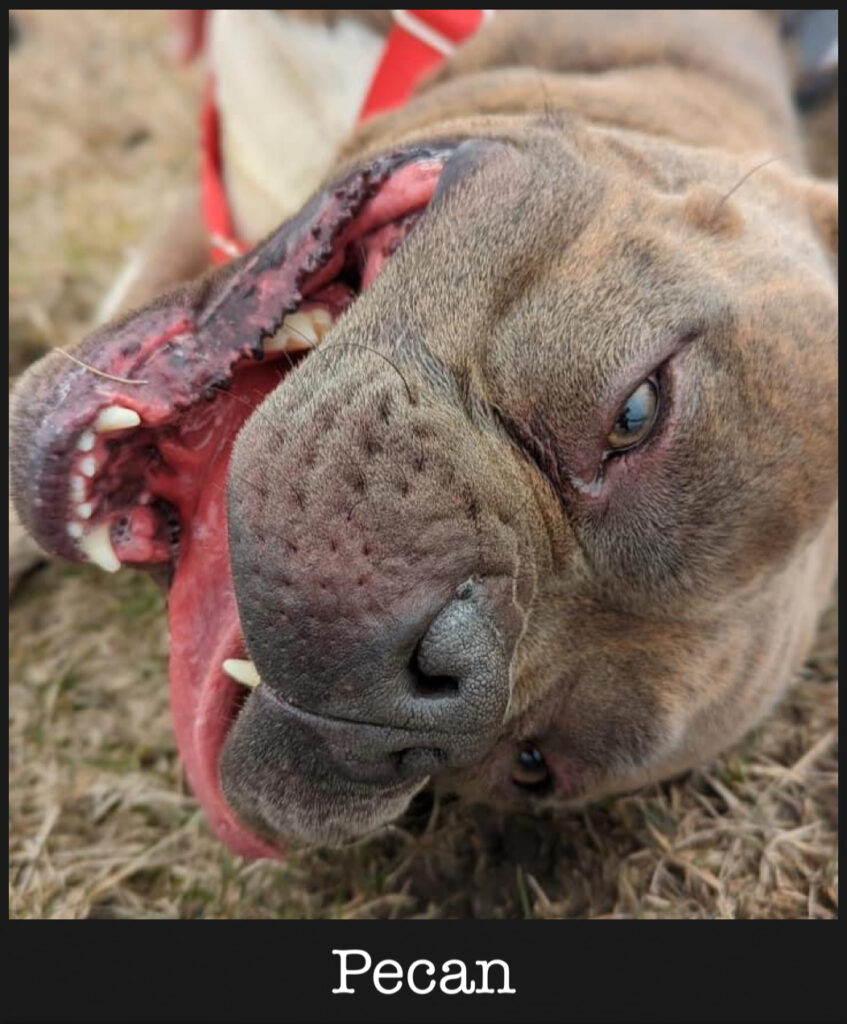 * Approximate Age 3 Years Old * Selective Dog -Friendly *  Not Cat-Friendly * Older Kid-Friendly * Up To Date On Vaccines * Neutered *
Meet Pecan, the charming canine with a personality as sweet as his namesake! At around three years old, Pecan has blossomed into a wonderful companion, making strides in his journey towards doggy friendship. While he may need slow introductions with other dogs, his determination to make furry pals is evident daily. As for our feline friends, well, Pecan might never be their number one fan, but hey, everyone has their quirks, right? On the bright side, this easygoing pup is most likely kid-friendly, making him a potential best friend for your little ones. Pecan enjoys the simple pleasures in life, like napping on the dog couch (seriously, he's a pro at it), taking leisurely walks, and munching on apples – his all-time favorite treat! When he's not indulging in apples, Pecan adores gnawing on bones and being an all-around good boy. Don't be surprised if you find yourself enchanted by his big, soulful eyes and adorable paw taps to get your attention. And if you ever need a laugh, just wait for one of his notorious "dirty looks." Pecan is the king of expressions!
Pecan has truly transformed from a pup who needed a little extra TLC to a well-mannered, crate-loving, and potty-trained pooch. He's a great listener who's mastered basic commands and even learned the impressive trick of going "back." Baths and nail trims? No problem for this canine champ. Although he might snore a little and occasionally offer a gentle snort, his most endearing quality is his penchant for cuddles and scratches on his giant head. Despite his initial burst of energy, Pecan has evolved into a bit of a couch potato, opting for afternoon naps and victory laps rather than zoomies. He may not be a fan of car rides, but with such a lovable personality, who cares? Pecan, affectionately known as "Peeks," is the perfect companion for someone seeking a canine friend who's up for slow intros with other dogs and has an arsenal of expressions that will keep you entertained. So, if you're looking for a delightful addition to your family, Pecan might just be the nutty pup you've been dreaming of!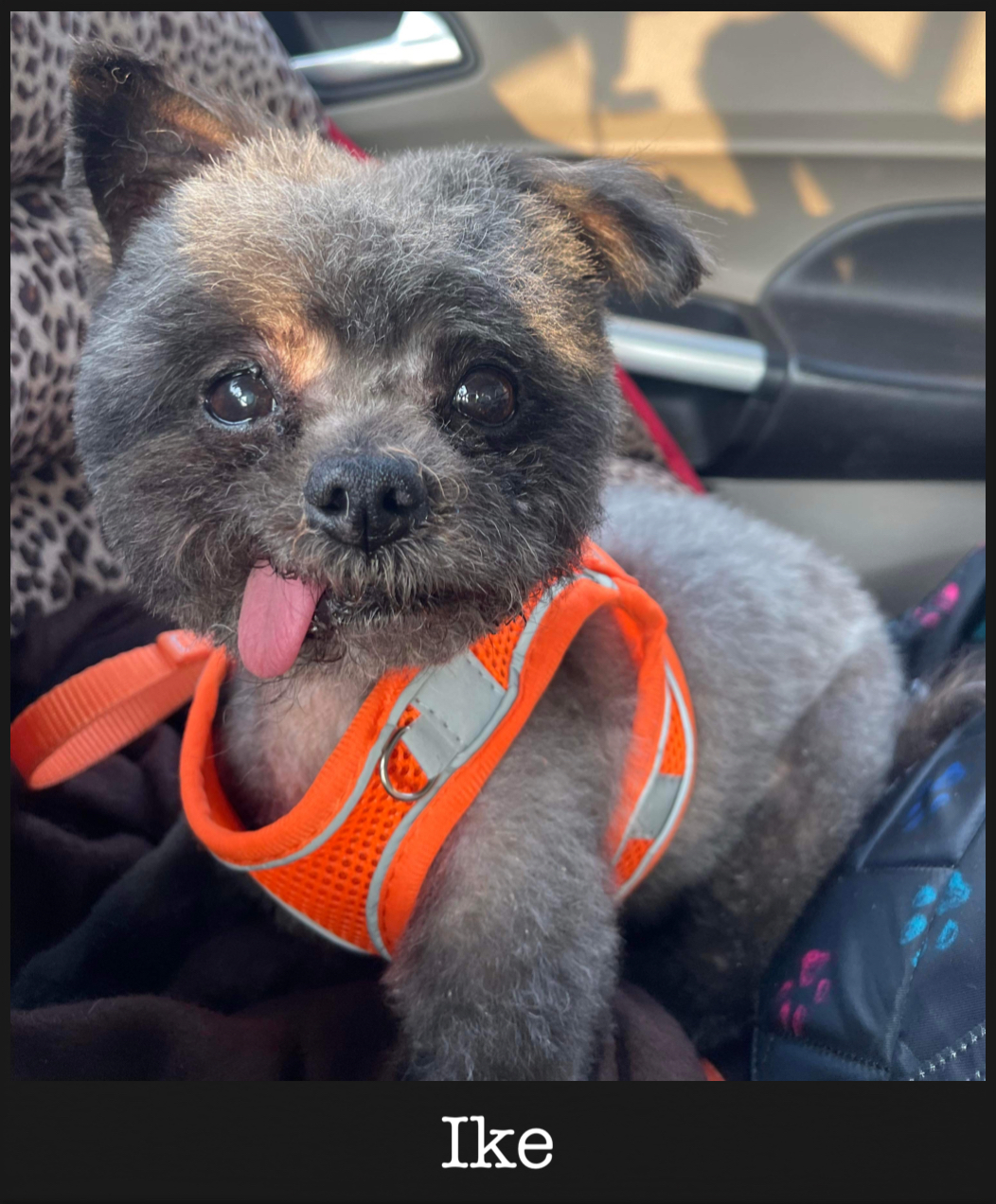 * Approximate Age 12 Years Old *  Dog-Friendly *  Older Kid-Friendly * Up To Date On Vaccines * Neutered *
Meet Ike, the wise old sage of the dog world with a personality as unique as they come. At around 12 years old, Ike's seen it all, and he's not afraid to let you know he's in charge. While Ike might not be the cuddly type, his foster knows that beneath that tough exterior lies a heart of gold. He's got a discerning palate and a fondness for pill pockets that would make any dog envious. Chicken and Rawbble duck are the way to his heart when it comes to food. Toys? Not his thing. Ike prefers spending his time strolling the yard, occasionally tolerating the company of his buddy Tony, or simply lounging next to his chosen human, granting them the honor of his presence.
Now, Ike might have a few quirks that set him apart from the pack. He's no fan of celery or most dog foods, and he couldn't care less about toys. He's not one to be petted without his consent, and getting his belly band on can be quite the ordeal. But don't be surprised if you catch him snoring occasionally; it's all part of his charm. Ike's not one for tricks or formalities, but he knows the importance of sitting when the situation calls for it. And when it comes to crates, he's perfectly fine with them. In Ike's world, he's a bit of a feline aficionado, making his own rules and expecting everyone to fall in line – or get a gentle gumming as a reminder. So, if you're up for adopting a one-of-a-kind canine character who's part dog, part cat, and all personality, Ike just might be your ticket to a truly unique companionship adventure. Just remember, in Ike's world, he's the boss, and you're lucky to be in his presence, "Dick Band Ike" and all!

Russet - Adoption Pending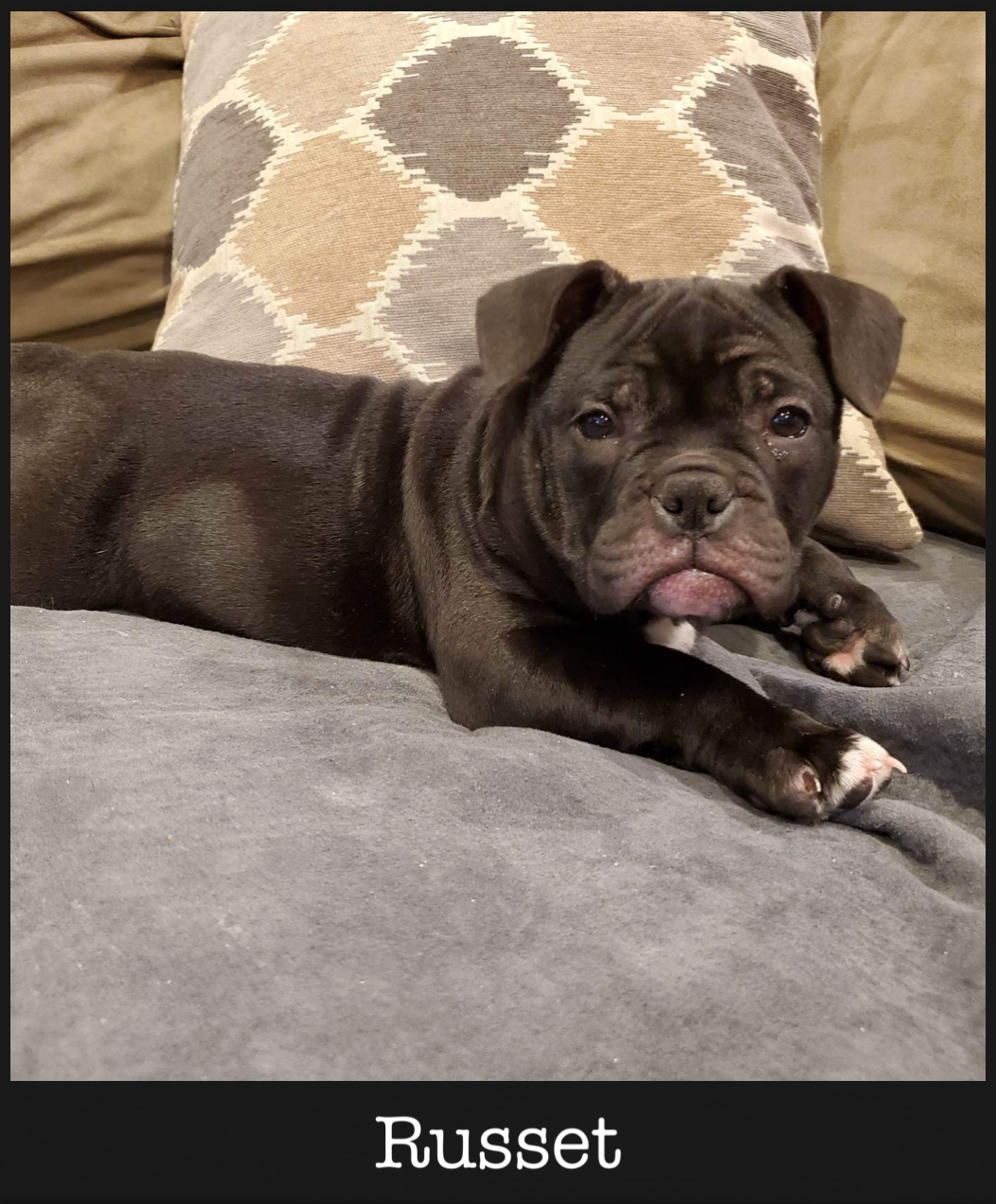 * Approximate Age DOB 3/23/23 *  Dog-Friendly *  Kid-Friendly * Up To Date On Vaccines *
More info to come as she settles in...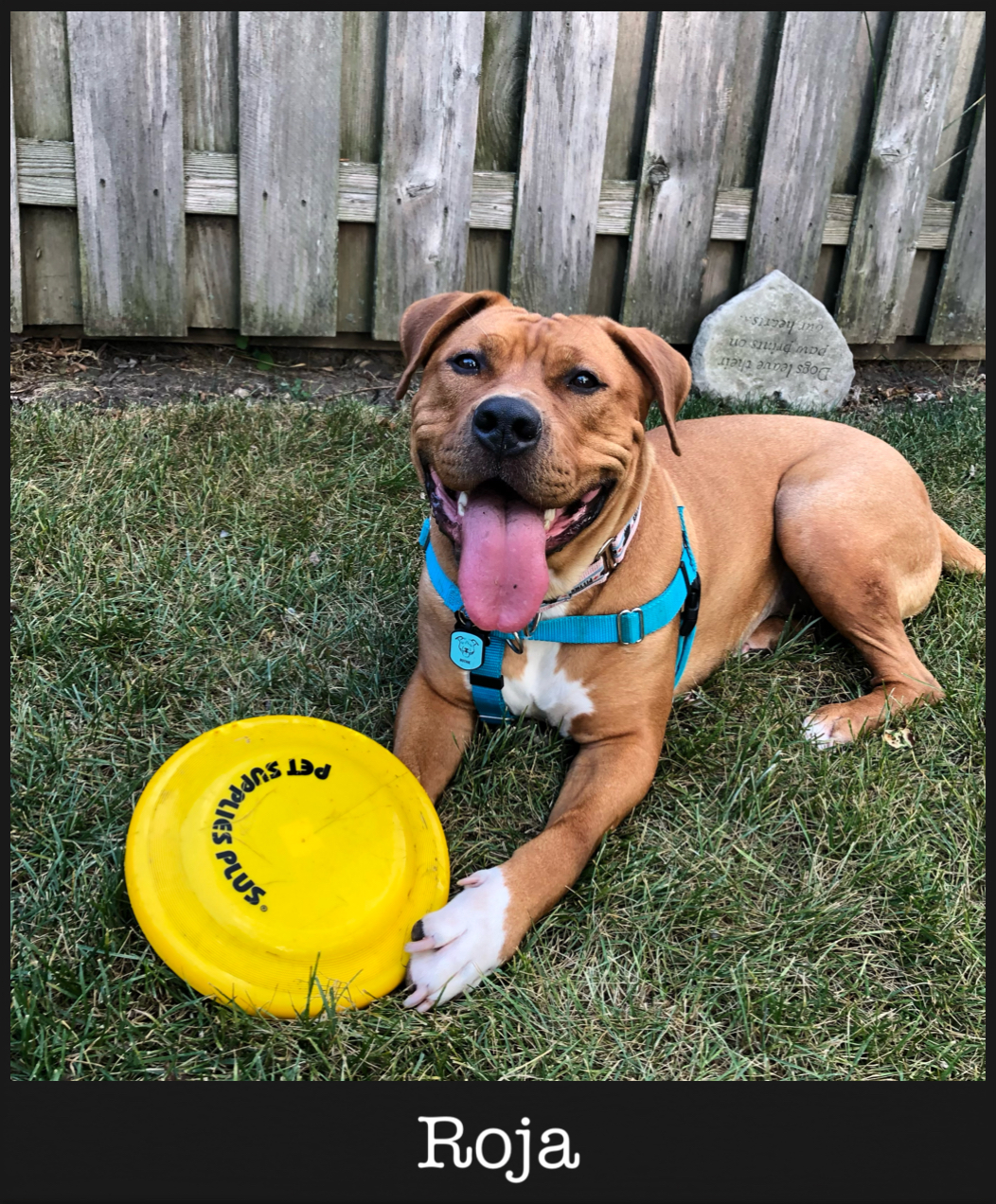 * Approximate Age 5 Years Old *  Selective Dog-Friendly *  Older Kid Friendly * Spayed * Up To Date On Vaccines *
Meet Roja, the spirited red-headed pittie who's ready to charm her way into your heart and home! At five years old, Roja is a bundle of pure canine enthusiasm and affection, making her the ideal addition to any loving family. Whether she's zooming around the backyard, demolishing squeaky toys, or simply snuggling up by your side, Roja's energy is contagious and her love is boundless.
Roja's culinary tastes are as eclectic as her personality. While she may turn her nose up at veggies like spinach and broccoli, you'll find her eagerly devouring peanut butter, cheese, yogurt, and fruits with a twinkle in her eye. Her favorite pastimes include epic tug-of-war battles with rope toys and playfully dismantling plush toys that dare to squeak in her presence. But don't be fooled by her playful antics; Roja knows when it's time to unwind, and she'll gladly cuddle up beside you, offering you a front-row seat to her adorable snoring and tail-wagging extravaganza.
Roja may have her quirks, like the occasional comedic gas emission or her aversion to tail-end scratches, but her endearing personality shines through in every way. She's a clever girl who's mastered tricks like sit, down, and paw, and she's a pro at catching treats mid-air. With a little training and the right treats, Roja's reactivity around other dogs can be easily redirected, and her charming antics will make you forget all about her minor quirks. So, if you're in search of a loyal, lively, and lovable companion, Roja is waiting to be your forever friend – and she's guaranteed to keep you entertained every step of the way!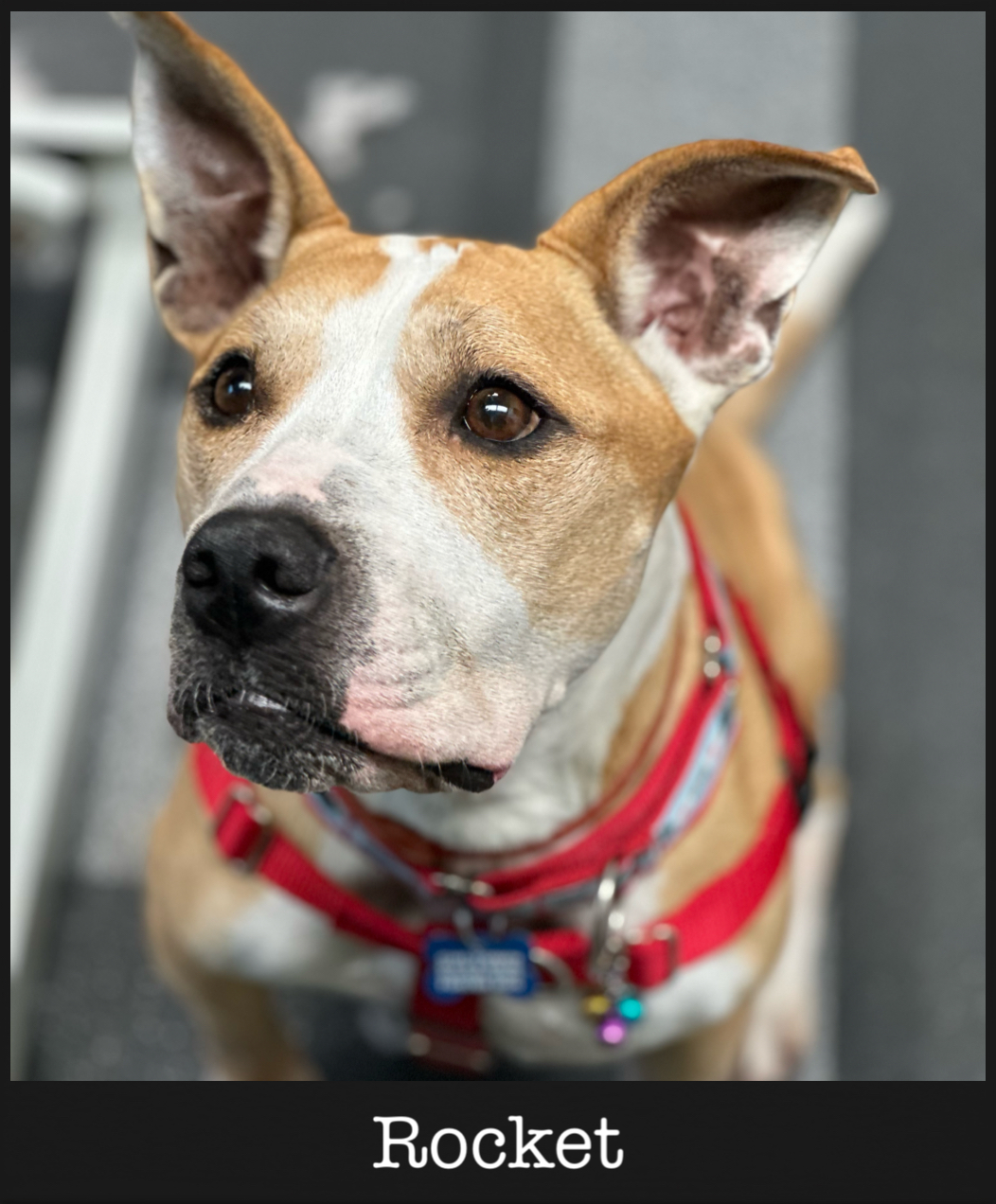 * Approximate Age 9 Years Old *  Dog-Friendly *  Kid Friendly * Neutered * Up To Date On Vaccines *
Introducing Rocket, the canine dynamo who's ready to launch into your heart and home! At just a young nine years old, Rocket's zest for life is truly inspiring. With a foster who's as enthusiastic as Rocket himself, it's no wonder this pup has rocketed to the top of everyone's favorites list. Rocket's foster swears he'd do anything for a treat, and when it comes to food, his adventurous palate knows no bounds. But what really gets this rocket's engines revving are chew toys and tug toys, providing hours of high-flying entertainment. When he's not busy zooming around, Rocket's idea of the perfect pastime is simply hanging out, preferably in the great outdoors.
While Rocket may have a few quirks, like chasing trucks and trying to correct canine companions, his foster family sees these as part of his unique charm. He's the ultimate adventurer, ready to explore the world with boundless energy and curiosity. But watch out for your countertops, because Rocket's a pro at discreetly counter-surfing like a master thief in the night! Even with his mischievous side, Rocket's heart is as big as his appetite for life. So, if you're seeking a loyal, fun-loving companion who's always up for an adventure, Rocket is your ticket to a journey filled with laughter, love, and maybe a few stolen snacks along the way!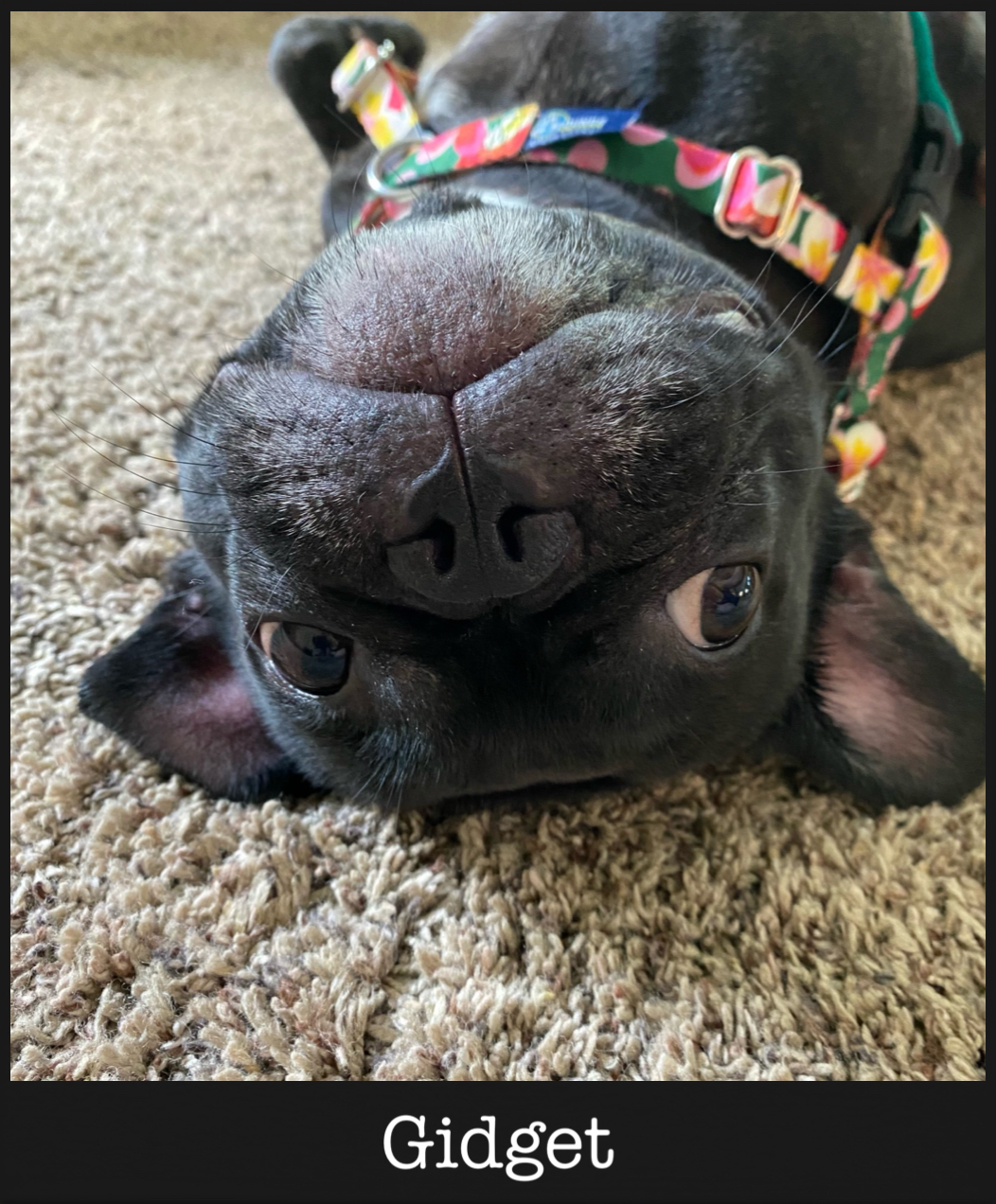 * Approximate Age 3 Years Old *  Dog-Friendly *  Kid Friendly  * Spayed * Up To Date On Vaccines *
More info to come as she settles in.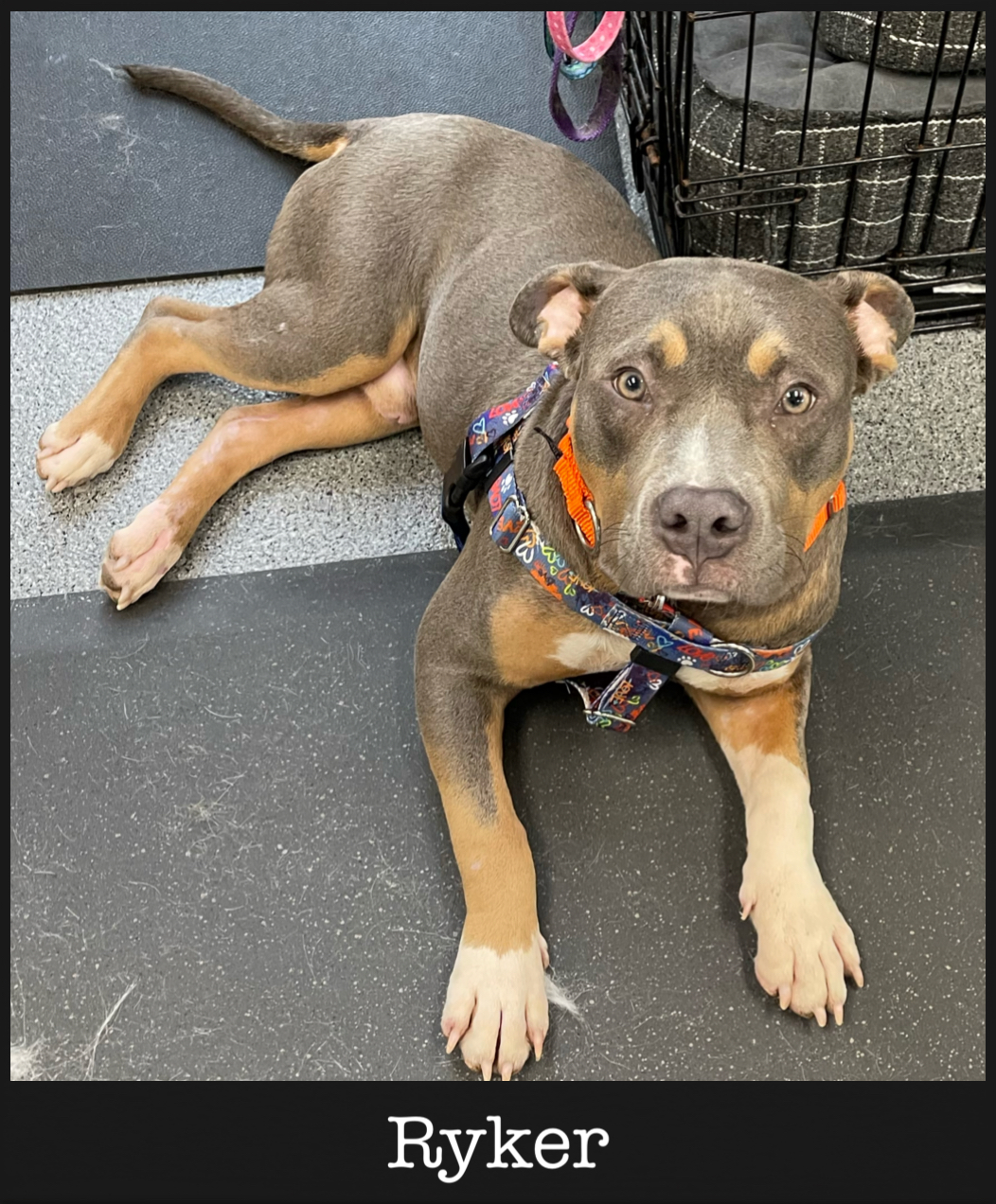 * Approximate Age 1 Years Old *  Dog-Friendly * Neutered * Up To Date On Vaccines *
More info to come as he heals and settles in.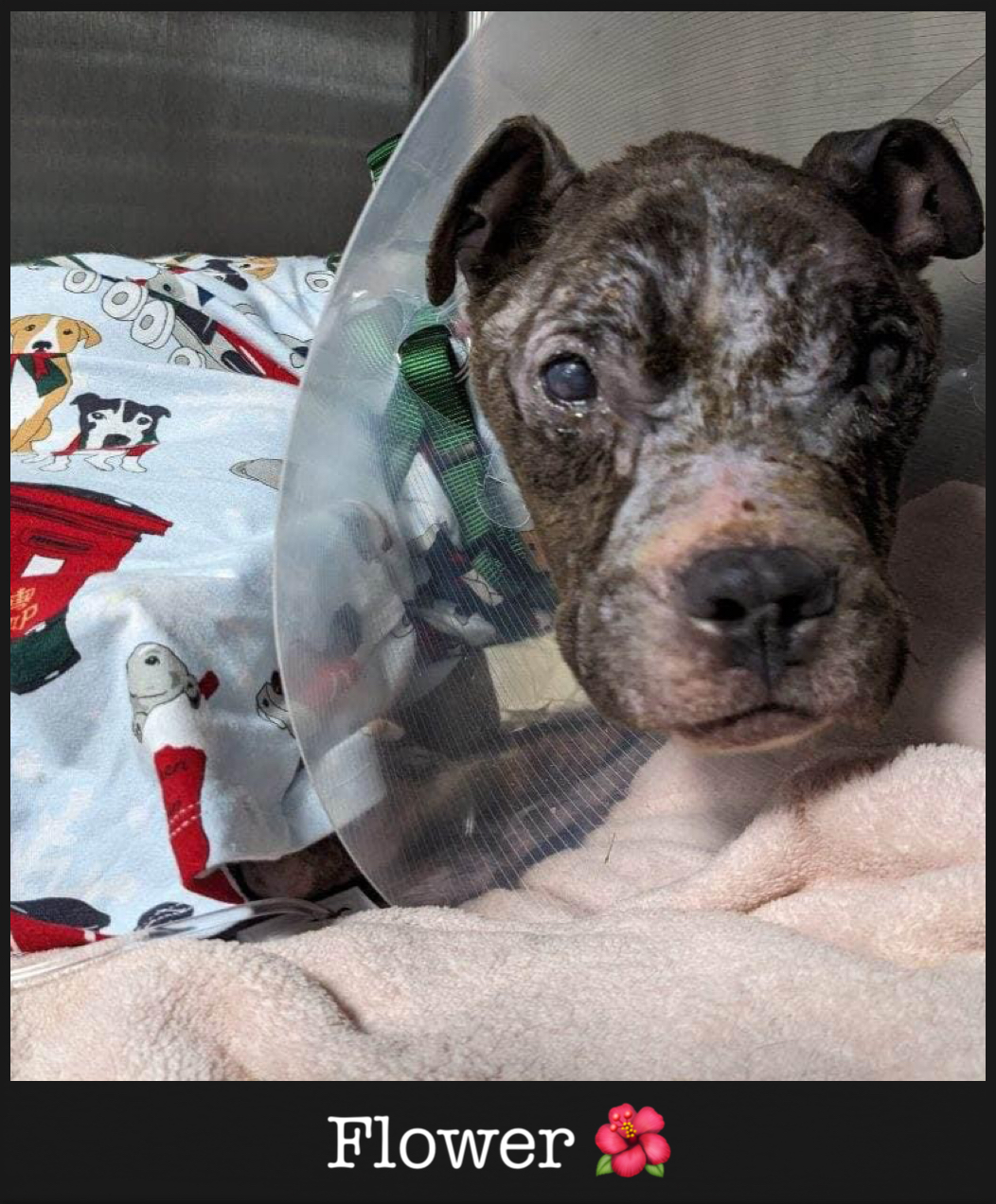 * Approximate Age 4 Years Old *  Dog-Friendly *  Kid Friendly  * Spayed * Up To Date On Vaccines *
More info to come as she heals and settles in.
Her story 8/26/223:
This evening, we were informed of a 3-5 year old female who was left tied up in a forest preserve without food or water. They suspect she was also burned and is blind because of the burning.
We are en route to try to save her. She is going directly to the ER.
Please welcome Flower to CTP. She needs all your positive energy and prayers.
8/27/2023:
It's difficult to process what Flower has been through. She is in worse condition than we thought. Her body is difficult to look at. On a condition scale of 1 to 9, she is a 1.
But she is fighting. And so will we. She has a long road of physical and emotional healing. We will be with her every step of the way.
On this National Dog Day we ask you to help us. As we celebrate all dogs give to us, we have to give all that energy, love and hope to Flower.
We are beyond grateful for your donations, prayers, words of encouragement and posts shares. Together we are changing lives. We are giving dogs, like Flower, hope. We are #CTPStrong
Chi-Town Pitties is a 501(c)3 charitable organization. All donations made directly to us are tax deductible. Donations can also be called into Veterinary Specialty Center (VSC) 847.459.7535. Donations made directly to VSC may not be tax deductible.
8/28/2023:
Until yesterday, the ER was too full to keep Flower. Liz drove her back and forth and cared for her until room became available. She has now been admitted to Veterinary Specialty for the care she so desperately needs.
"Flower only weighs 25lbs. She is slightly anemic, so they are watching her on that. They have her on GI support, antibiotics, fluids and have started with 1/3 of what her normal feeding should be. Sometime today, they will call with a plan for her wounds once the surgeons can evaluate her. She is also on the list for an ultrasound to make sure organ function is looking ok.
As far as her eyes go, one is ruptured and will need to be removed. Unfortunately, they said it looks like an old injury from abuse. Her other eye will be evaluated once we can get her stable and looking better.
Her wounds weap and she leaves marks wherever she lays. I can imagine how long she has been like this. All she has endured. And yet she is full of kisses and full of love. I feel so much better knowing she is in good hands, I was so worried about her going into shock or something failing her." - Liz
8/29/2023:
Overnight Flower rested comfortably. Today her case was picked up by the criticalist. She has been eating and keeping all her food down. She was bathed today and all her wounds were cleaned out. They have decided to use medical honey to pack her deep wounds and do bandage chances. The main thing is to make sure her body can handle the feeding and hopefully they will up her intake tomorrow. She is a savage! Which is wonderful but she really makes the staff feel guilty for not being able to give her more The surgerons didn't feel surgically fixing the wounds was in her best interest. She is on antibiotics, GI support, pain medication and eye medication. She will need to have consults with the dermatologist for a plan moving forward with her skin and then a consult with the opthomologist on how to move forward with removing her one eye and how to proceed with the other eye. Flower is a fighter and it's no wonder she made it to us with her fighting spirit.
8/30/2023:
You guyyyyys!
Look at this Flower update from Liz. Let's keep sending all our positive juju that today is another great day!
"What a difference a day makes! Flower's wounds that are being treated with Medical grade honey are looking amazing! I'm in awe, absolutely in shock. They look so much more healed. She was bathed several times to get more skin off and put some moisture in. She has been holding down all her calories, no GI bleeds!!! Woo hoo!! Her bloodwork is stable and she is resting comfortably. The staff is loving on her so hard. I was able to spend some time with her. I took her outside and she just sniffed the air and enjoyed standing there. Wednesday, she is set up for an ultrasound and hopefully a dermatology consult. I know she is where she needs to be, but I secretly can't wait till they say she can be discharged." - Liz
Ways to donate: