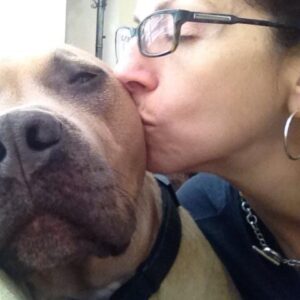 Founder & President
Lynette, Chi-Town's Rescuer-in-Chief, has spent her life around 'underdogs' so it is no surprise she has devoted herself to pittie and bully breed rescue.
Growing up, her family always seemed to have the dog with the bad rap. The Dobermans, German Shepherds and Rottweilers were to the 70's and 80's what the pit bulls are today. When she became an adult and was ready to start a canine family of her own, it only made sense to her to look to the next 'breed' in the hot seat: the Pit Bull.
At that time, rescues were overly cautious about who they would adopt pitties to in an understandable reaction to the heat the breed was taking and their vulnerability as a result. No one seemed to want to offer their dogs to a first-time pittie owner, even one with large breed experience, especially if they had kids and other dogs. Luckily we have come a long way since then in understanding that dogs have to be judged as individuals! With no other apparent choice, Lynette got her first pittie from a breeder but later was able to rescue one (even with a child, another pit bull and a Chihuahua). Her rescue involvement began shortly thereafter with her most recently serving several years on the governing board for another area rescue before making the decision to start Chi-Town Pitties, Inc.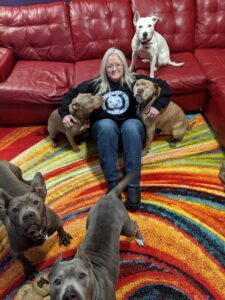 Liz- Board Member & Medical Coordinator
Liz joined the Chi-Town team in 2018.
She has worked with animals for most of her adult life. For the last 16 years, she has worked at a veterinary hospital as a groomer. Over the years of working with animals, she found her heart to be with senior animals and dogs with medical needs. Liz shares her home with Pitbulls, Raindrop, Meatloaf, and Major, Trixie a pug/Boston mix, and two chihuahuas, Lola and Chi-Chi. She is also a Humane Investigator with the Illinois Department of Agriculture.
She has fostered and volunteered for several rescues and organizations. Liz fostered all sorts of breeds before finding her love of Pitbulls. She found herself seeing first hand the breed bias against pit bulls and knew she had to advocate for the breed she loved so much.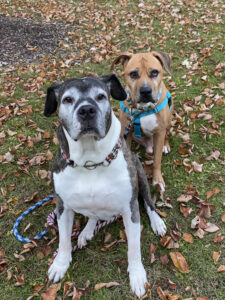 Anne - Board Member & Interaction Team Lead
My Love for dogs started as a child. My mom would bring home the dog that no one wanted or the stray that would jump in her car.
I fell in love with my first pittie 27 years ago when I was living in L.A.  She needed a home, I took her hiking for the day and that was all it took for me to fall in love. I fostered her for a couple of weeks, I took her everywhere with me and found Fannie a home.
I moved to Albuquerque and adopted a Pittie from the humane society. She was the first dog I took to training. It was then I realized the bond that training provides. I knew I would always have a bully breed in my life.
My current dogs are Roscoe, who is a Staffie/boxer mix, and Lily, a bullmastiff/boxer mix. Roscoe is a certified therapy and Crisis response dog, as well as a Safe Humane ambassador dog. Lily is a professional snuggle bug and bed warmer.
In my free time, I volunteer at Dupage County Animal Services, and CACC with Safe Humane. I am also a Certified Professional dog trainer.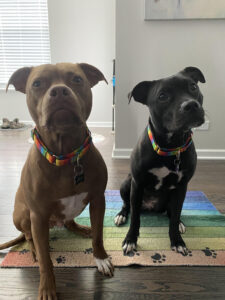 Matthew - Board Member & Secretary
In the winter of 2019 I decided to adopt a dog and little did I know that by the end of 2019, I would adopt 2 dogs from Chi-Town Pitties.  I had never cared for or welcomed a dog into my home, but knew that when the time was right I wanted to rescue a dog.  My friends who foster and volunteer for the rescue introduced me to Chi-Town Pitties and within a month I met Jax and instantly knew we were meant to be family.  During our first few months together, the human had to learn how to dog, and Jax was a great teacher.  By Fall, we welcomed Ava into our home, she was instantly part of the family.  Fast forward to a year later and my world is forever changed for the better, Ava and Jax have taught the human what it means to be a dog, admittedly still a work in progress.  I began volunteering for Chi-Town Pitties on the applications team and expanding into home visits.  As a novice to the dog world, this experience and organization have taught me so much.  My day job involves interaction with humans and I choose to spend my free time with dogs!

Ali - Interaction Team Member
Ali is a graduate of The Karen Pryor Academy, earning her Karen Pryor Certified Training Partner title (KPA-CTP). She is also a certified trick dog instructor (CTDI) and is fear-free certified.  Ali continues her education and professional growth by attending several seminars each year.
When not helping client animals Ali enjoys time with her own, especially competing with one of her rescue pitties in dock diving competitions. She grew up riding horses and working with the family dogs when her parents would let her. She also had cats, rabbits, bearded dragons, mice, hamsters, and a ferret growing up, whatever her parents told her she couldn't bring in the house, she did.  Now her menagerie is a bit smaller with three dogs, 2 ferrets, and a horse.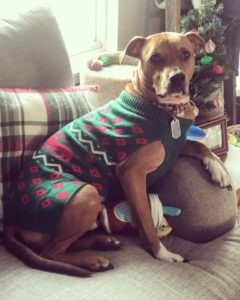 Jordan - Interaction Team Member
Jordan's parents started fostering bully breeds when she was in high school and since then she has fallen head over heels for the breed, now at age 24, she has fostered dozens of CTP pups. Jordan rescued a pit/beagle mix 3 years ago from another rescue before finding CTP and adopted a cat from a local shelter. She has become a professional dog trainer through the completion of Animal Behavior College and is studying to be a canine behavior consultant. Jordan is a trainer at a facility in Naperville and works as a part-time dog walker/pet sitter with her own small business- J-Walking K9's. Some hobbies of hers are binge-watching animal-related documentaries on Netflix and hanging out with her family.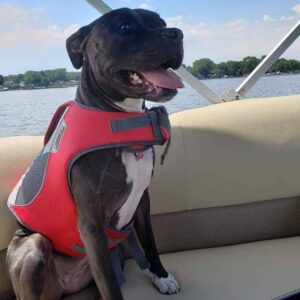 Erin- Interaction Team Member
My love for animals started from a young age and I started fostering in 2009 shortly after moving out on my own. It took me years to figure out my own philosophy on rescue and longer to find a rescue that aligned with that vision. In 2018, I joined Chi-Town Pitties as a foster and my husband, resident dog, and I opened our home to CTP dogs. Volunteering and fostering have continued to grow my dog skills and I look forward to using them to assist the interactions team. I look forward to making a positive impact on more bullies in the future.
We currently have Skylar, an Am Staff as our resident dog who works full time as a bed hippo and semi-professional smoocher. Skylar is a wonderful guide for the younger dogs and has a wonderful temperament for fostering.
In my free time, I enjoy reading, boating, traveling, and going on adventures with the dogs, and spending time with my friends and family.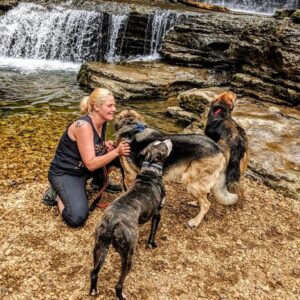 Sara- Interaction Team Member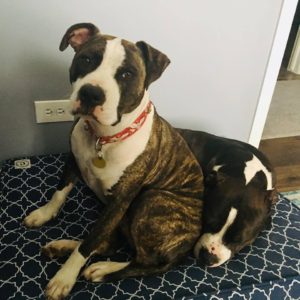 Morgan - Events & Fundraising Team Lead
Morgan has grown up around animals her whole life.  Whether it be dogs, cats, or horses, she has always surrounded herself with animals.
She found a soft spot for bully breeds when she was 19 and adopted her first dog.  Since then Morgan has surrounded herself with four-legged blockheads, and one renegade Pointer.  When not at her day job or hanging with her husband and dogs, Morgan spends time volunteering with foster kids in Chicago with one of her pit bulls.  Over the last few years, Morgan has fostered several dogs with Chi-Town Pitties, Inc. and actively assists donation collection for the rescue.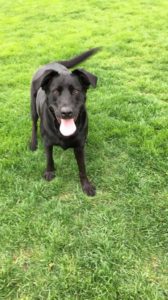 Stacey is the Content Team member responsible for our Instagram.  She has a 9-year-old Lab/Shepard mix named Storm who is a rescue, a cat named Turbo & a parakeet named Tiki who were both rescued from their backyard.  She works in customer service/sales for an Industrial Engineering firm that is based out of Ohio.  Her hobbies include crafting ~ mostly cross-stitching, baking, and working out.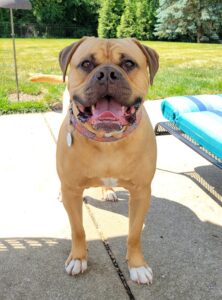 Susie is the Social Media Team member responsible for our Facebook presence. Susie started volunteering for us when she and her husband, Bob, signed up to foster Reggie, who they later adopted. By day, Susie is a financial analyst. But her passion has always been helping animals. Susie has been volunteering in the animal rescue community for almost 20 years. In her spare time, she enjoys gardening, baking, and studying dog behavior - she is a certified professional dog trainer (CPDT-KA) and volunteers at DuPage County Animal Services.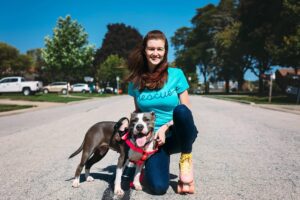 I've always had a love and appreciation for the misunderstood, and because of this, I knew that when I had a house and a family of my own, I would welcome the bully breed into my life and home with open arms.
In March of 2020, we met 7-month-old Broccoli at animal control and quickly knew he'd be a great fit for our family of four. In September of 2020, we starting fostering 2-year-old Ziti, and as much as I wanted to continue our fostering journey, the bond she had created with us (and ours with her) was too strong to break. We now have two CTP alumni!
I am so grateful for Chi-Town Pitties, and I'm overjoyed by the fact that I'm able to merge my passions of photography and Pitbulls in order to connect more dogs with their humans!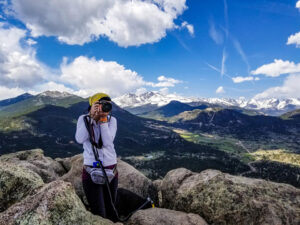 Nissa joined Chi-Town Pitties in 2017 when she and her husband, Chris, took on their first medical foster, Rick Allen, and have since fostered many more! By day, Nissa is a professional musician and you can regularly find her student performing for animal-related charity events throughout the Chicagoland area. Photography, while not her profession, has always been a passion of Nissa's. In her spare time you can find her volunteering for various animal-related non-profits, doing dog/family photoshoots, trying to take pictures of her dogs (and fosters!) catching/eating food, and capturing the many adventures she goes on with her husband and 2 dogs, Zissou and Bishop. She is very excited to expand her involvement with Chi-Town Pitties by helping more dogs find their forever families!

Application Team Volunteers
Andria L
Elizabeth H
Erin R
Janice M
Julie P
Kim G
Lisa W
Lynn B
Michelle M
Sara K
Stephanie M
Vicki M