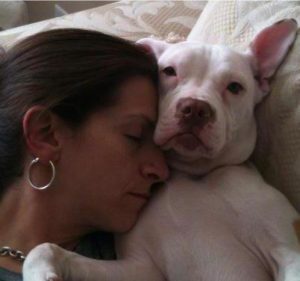 Founder
Lynette, Chi-Town's Rescuer-in-Chief, has spent her life around 'underdogs' so it is no surprise she has devoted herself to pittie and bully breed rescue.
Growing up, her family always seemed to have the dog with the bad rap. The Dobermans, German Shepherds and Rottweilers were to the 70's and 80's what the pit bulls are today. When she became an adult and was ready to start a canine family of her own, it only made sense to her to look to the next 'breed' in the hot seat: the Pit Bull.
At that time, rescues were overly cautious about who they would adopt pitties to in an understandable reaction to the heat the breed was taking and their vulnerability as a result. No one seemed to want to offer their dogs to a first time pittie owner, even one with large breed experience, especially if they had kids and other dogs. Luckily we have come a long way since then in understanding that dogs have to be judged as individuals! With no other apparent choice, Lynette got her first pittie from a breeder but later was able to rescue one (even with a child, another pit bull and a Chihuahua). Her rescue involvement began shortly thereafter with her most recently serving several years on the governing board for another area rescue before making the decision to start Chi-Town Pitties, Inc.